Before you head out on your next adventure in your RV, motorhome, or camper, have you considered what you would do if you lost the keys to your RV's entry door or storage compartments? Losing your keys could mean paying for a mobile locksmith or waiting weeks - even months - for replacement keys from the manufacturer. At EasyKeys.com, we partner with some of the top
RV key and lock suppliers
including
Global Link
,
Bauer
,
Southco
and
Trimark
to provide replacement keys that are usually shipped the same business day! We also offer fast overnight shipping options if you need a key on short notice.
Are RV keys universal?
Without a doubt, a spare key can alleviate a lot of unnecessary stress when traveling. However, what many people don't realize is that camper storage compartment locks are used universally across many different recreational vehicles. For example, the
Southco CH751 Key
is commonly used in RV storage compartments.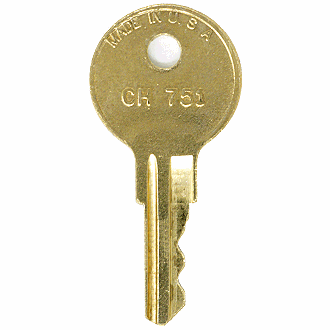 How do I get a replacement key for my RV?
Many dealers and locksmiths do not keep replacement keys in stock and require additional lead time to order key blanks directly from the manufacturer. EasyKeys.com, on the other hand, has a wide variety of
RV key blanks and pre-cut keys
that are in-stock and ready to ship!
Can RV keys be duplicated?
Yes, RV keys can be duplicated. EasyKeys.com has access to key cuts for many RV keys and the appropriate replacement can be easily identified through our website. If you are unsure, send an image to info@easykeys.com, or
contact us
to help identify the best option.
Are all RV keys the same?
Storage compartments can either be keyed alike or differently. Check the lock code printed on the face of your lock or engraved in your keys to determine if your keys are the same.
Can you rekey an RV lock?
Yes, you can rekey your RV locks! Many RV owners choose to key all of their storage compartments alike. To get started, select the appropriate
control keys
,
lock housings
, and
lock cores
.
No matter where your RV takes you, EasyKeys.com is ready to help with your replacement key and lock needs. If you need more assistance,
contact us
at 877.839.5397 or email as at info@easykeys.com