Plunger or push button locks, whatever name you prefer – EasyKeys has them!
Push button locks and plunger locks are used for cabinets, showcases, office furniture, and sliding door applications. This type of lock locks by pushing the lock cylinder into the mechanism, and then is unlocked by the corresponding key.
EasyKeys has multiple options available for
push button or plunger locks
.
The CompX Timberline Push Button / Plunger Lock can be purchased as just the cylinder body or as a lock kit with the lock core and key. If ordering multiple locks, the option of having the locks keyed alike or differently is available – which means either all using the same key or each lock requiring an individual key. This commercial push button lock housing is made from black toughened nylon and is most commonly mounted on 1" thick material.


ESP makes a Flush Mount Plunger Lock Package that includes a plunger lock with two keys. This lock package is designed for passing wood doors and can be keyed alike or keyed differently. Included in the package is a nickel cup strike, and two mounting screws.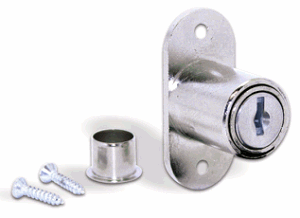 The Olympus Lock Plunger Lock is most commonly used on wood or metal furniture sliding doors. This lock features a rekeyable cylinder via its speed release mechanism on the side. A bold extender is included as a solution for varying gaps between passing doors. This lock comes in three different finishes – satin chrome, polished brass, rubbed bronze - to match whatever furniture you have!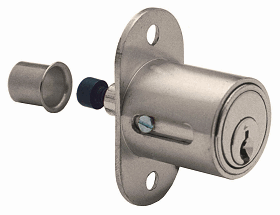 Wesko's push button / plunger lock comes with a small adapter so that it is easily rekeyable with the Wesko W series lock cores. Since this lock can use the Wesko W series, a master key system is available. This is very convenient for offices or spaces where there is employee turnover.