Interested in leveling up? Desire to create a stable working environment? We may not have the secrets to the latest video game or how to keep coworkers from arguing over the last donut in the break room, but we can keep your tables level.
Furniture leveling feet
are the solution to fix uneven, wobbly tables. EasyKeys.com offers two types of
self leveling table glides
- the
Jacob Holtz SuperLevel
and the
Jacob Holtz TableShox
.
The
SuperLevel
is an automatic, self-adjusting glide that permanently eliminates table wobble.
SuperLevel table leg glides
instantly and automatically self-adjust to an uneven floor. The table leg glides have a spring-and-ramp mechanism that is activated by the weight of the table. This spring-and-ramp action creates a permanent solution for table wobbling on an uneven floor. The SuperLevel even comes with an adhesive that allows mounting on a variety of fixtures.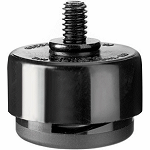 Some more benefits of the
Jacob Holtz SuperLevel
are easy installation, corrosion resistant, and built to last made of nylon and impact resistant polypropylene combined with a heat treated stainless steel spring. The SuperLevel adjusts up to ¼' and can hold 500lb per set of 4!
Another option from Jacob Holtz is the TableShox option. The TableShox is a furniture leg leveler that can be used indoors as well as outdoors, and automatically stabilizes the table.
TableShox furniture leveling feet
re-adjust every time the table is moved, and requires no adjustment! Save that time to handle the fight over the last donut. ;)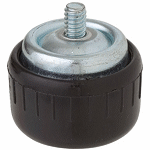 The
TableShox
automatically adjusts to 5/16", and has a swivel feature for increased stability. These table leg levelers are sturdy - made of steel, polyurethane, and impact resistant nylon - and can hold 400 lbs per set of 4!
So level up and create a stable work environment with one of our
Jacob Holtz Self Leveling Table Glides
!