Although we're obviously pro-key, we understand it can be a hassle to be responsible for them. Lost, stolen, and forgotten keys are no longer a problem with electronic keyless locks.
Electronic locks
are also a solution for employee turnover, or a lock requiring multiple users - just provide the code and no keys are required! EasyKeys offers a variety of electronic locks for cabinets, desks, lockers, and cubicles. Electronic keypad locks can be controlled by the keypad, key fobs, Bluetooth, NFC or ProxCards depending on the option selected. Battery operated, the electronic locks are reliable, and can operate 3 or more years before requiring a replacement.
EasyKeys carries the brand
MicroIQ
, which has several locking mechanisms available that will allow you to replace most locks. MicroIQ retrofits and replaces the lock cores of multiple furniture and lock manufacturers (Hon, Haworth, Kimball, Knoll, and Steelcase to name a few!). Just remove the current lock core and insert the
MicroIQ electronic lock
. Depending on your specific needs, MicroIQ has an option for you. There are two available modes – station and locker mode.
The station mode refers to an office environment or workstation where there is typically one user of the lock. The lock is used repeatedly by the same user with one keypad code and / or one key fob. A key fob can be programed to as many locks as desired which enables the users to have one key fob for multiple locks. The station mode electronic locks can handle a total of three unique access codes and / or key fobs in order to provide security management.
The locker mode refers to a space such as a school, club, or hotel where temporary codes are necessary. These locations require multiple users with temporary but individual codes to provide access to a locker or storage unit.
Station or locker mode must be specified at the time of order. Providing even more versatility, the
MicroIQ locks
can be switched between the two modes.
Security is a priority and easy with the MicroIQ locks. AutoTraq is an optional software that provides tracking of the users and their access. The AutoTraq software provides compliance data and additional peace of mind for those high security items.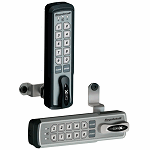 CompX National RegulatoR Manual Locking Electronic Lock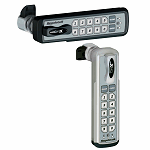 CompX National RegulatoR Self-Locking Electronic Lock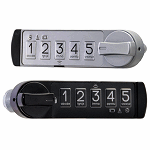 Micro IQ Electronic Locks
For assistance selecting the optimal
electronic lock
for your needs, contact a real human in customer service at
info@easykeys.com
or toll-free at 877.839.5397.
Upgrade your locks and enjoy the ease of access that
electronic keypad locks
provide!