It's as easy as snapping your fingers!
If you can snap your fingers, you can turn a thumb turn lock. What is a thumb turn lock?
Thumb turn locks
are an oval or circular shaped lock that operates by turning the grip. Thumb turn locks do not require a key to lock and unlock. EasyKeys.com carries multiple
thumb turn lock sets
for non-secure applications such as panel doors, storage cabinet doors, RV storage boxes, and more. The thumb turn locks are versatile and can be applied accordingly to provide a clockwise or counterclockwise application. EasyKeys provides ESP Lock and Wind Danbury brand thumb turn lock sets that have threaded shells, come staked to a 90-degree rotation, and include everything necessary to perform all locking functions.
How to install a thumb turn lock? It's easy! Installing a thumb turn lock is the same as installing a regular cam lock. Locate the position of the lock on the door or drawer, and if there is no existing hole, drill one for the thumb turn lock. Insert the thumb turn lock into the hole and align the lock as desired. From the inside, place the washer and hex nut onto the lock and tighten while holding the lock secure on the outside. A spur washer is included for wood installation. If more help is needed, contact our customer service team at
info@easykeys.com
or at 877.839.5397.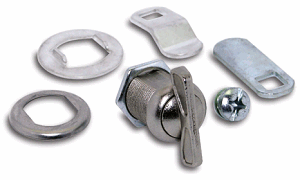 ESP Lock offers multiple size options for thumb turn locks to ensure finding the perfect fit for your needs. Three depths are available: 5/8", 7/8", and 1-1/8". The
ESP Hudson Lock thumb turn cam locks
are a bright nickel finish, and include a hex nut, sem screw, 1-1/4" straight cam, 1-1/8" x ¼" offset cam, super washer, and a 1/8" cylinder ring.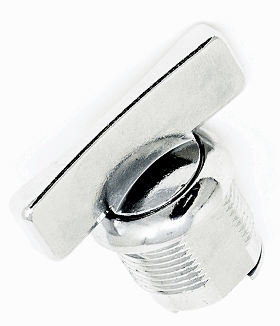 The
Wind Danbury thumb turn locks
are also available in multiple sizes, and are chrome plated. These thumb turn locks come with two levers, one prong washer, one collar, hex nut, and a mounting screw with washer.